Thermal Insulation Light Weight Roof And Floor eps concrete prefab house
EPS & Cement Sandwich Panel is a kind of lightweight energy saving wall material, which uses cement calcium silicate or reinforced calcium silicate board as face panel, filled with cement, EPS polystyrene foam particles, and as core material and forming by one time compound.

1) Composition: calcium silicate board as face panel on both sides, cement and EPS polystyrene form as core.
2) Usage: This EPS cement sandwich panel can be widely applied to all kinds of decoration and building construction, they are the best materials for plants, apartments, hotels, office buildings and public constructions, etc. In addition, they are used for compartments, households, bathrooms, the interior partition walls of kitchens in the high-rise building and housing renovation projects.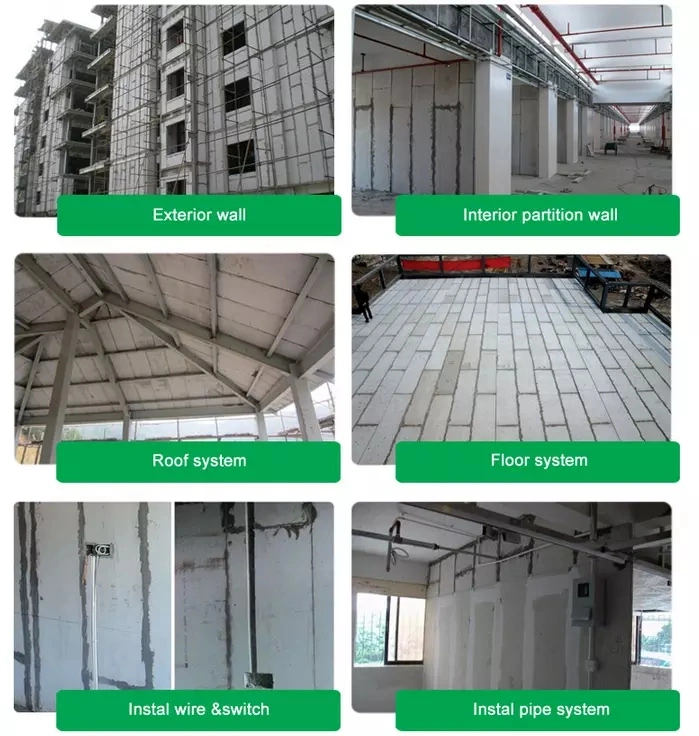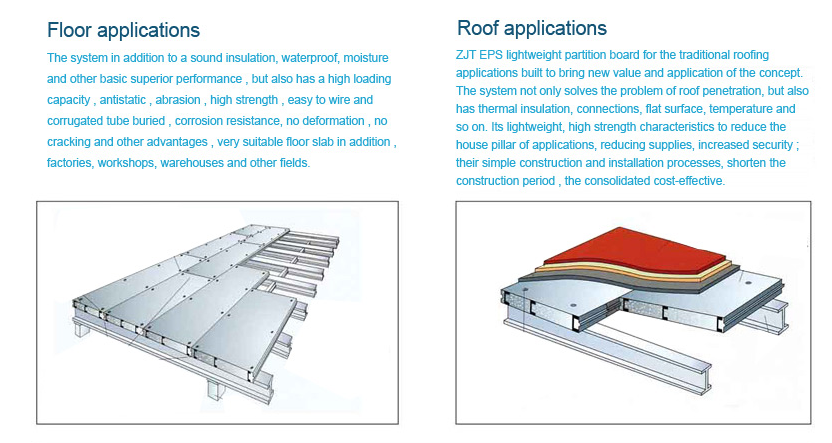 ZJT cement EPS sandwich panel It a kind of light weight energy-saving green compound board material taking fiber reinforced calcium silicon board or cement calcium silicon board as panel, with cement ,EPS, fly ash as fillers and forming by one time compound .It can widely be applied to wall materials of various high and low building, such as: bank, office building, hospital, school, hotel, mall, amusement hall, active barrack, old house reconstruction, residence and workshop.


Name
Size (L*W*T)mm
Weight(kg)
Packing(pcs/m2 per 20')





EPS Cement

Sandwich Wall panel
2270*610*60
45-48
315 pcs / 436 m2
2270*610*75
50-53
252 pcs / 349m2
2270*610*90
55-58
207 pcs / 287m2
2270*610*100
60-65
189 pcs / 262 m2
2270*610*120
65-75
153 pcs / 212 m2
2270*610*150
80-90
126 pcs / 175 m2
2270*610*180
95-105
99 pcs / 138m2



Advantages:

Weight: 1/8 of solid brick wall
Intensity : C30
Heat conductivity : 1/3 of solid brick wall
Sound wave conductivity :1/4 of solid brick wall
Reduce wall cost 15% ~ 20%
Adjust the indoor humidity automatically, save space, reduce pollution
Improve construction efficiency 3 times or 5 times
Simple operation and convenient installation,


Application

Our eps sandwich wall panel can replace construction materials as red bricks, clay solid bricks, air bricks,color-coated steel sandwich boards, gypsum blocks, wire spatial grid structure perlite boards, and perlite porous board. Our eps sandwich wall panel can widely be applied to wall materials of various high and low buildings such as banks, office buildings, hospitals, schools, hotels, malls, amusement halls, active barracks, old houses reconstruction, residences, and workshops.



Installation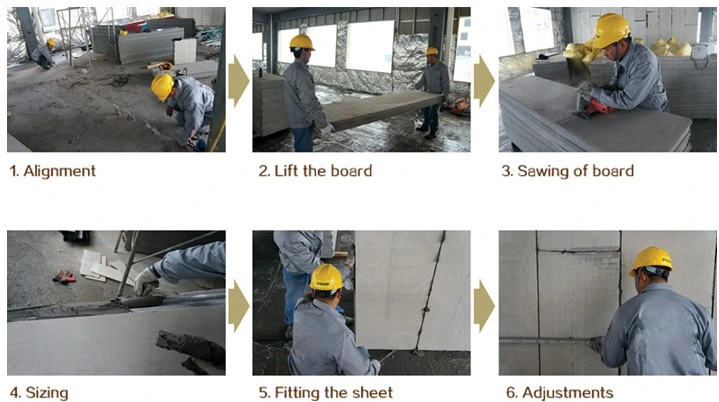 Packaging and Shipping

1.Hold by Wooden Pallet
2.Covered by PVC and Bonded with plastic belt
3.Fasten around the corners
4.Mounted in container to protect your purchasing.

Specification
Product Name

Specification(mm)

Weight(kg/m2)

Allowed Tolerance(mm)

Precast Concrete Sandwich Panels

2270*610*60

45~48

Length±5

Width±2

Thickness±1

Diagonal±2

2270*610*75

50~53

2270*610*90

55~58

2210*610*100

60~65

2210*610*120

65~75

2210*610*150

80~90

2210*610*180

95~105
Load containers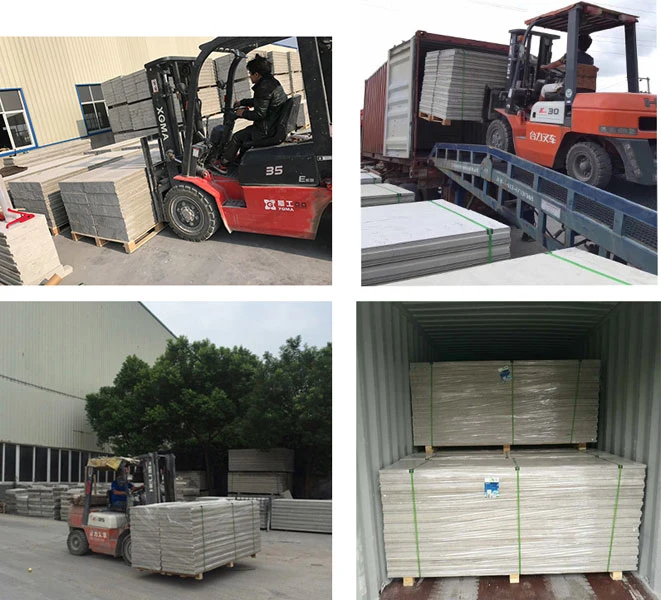 Certificates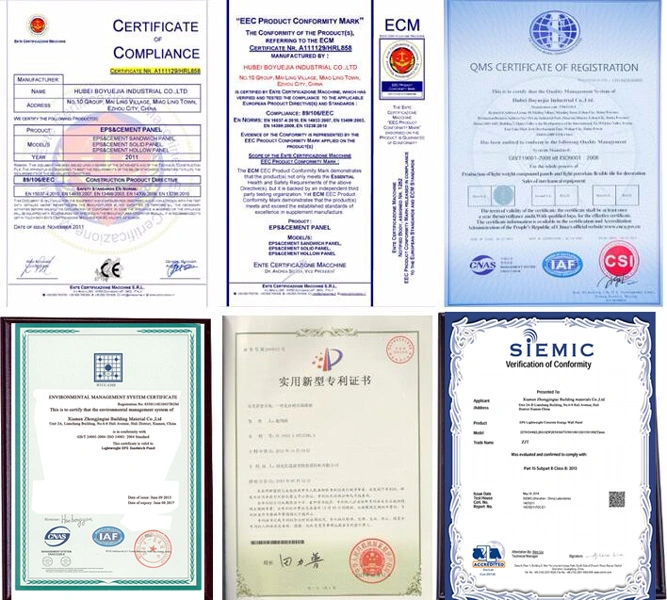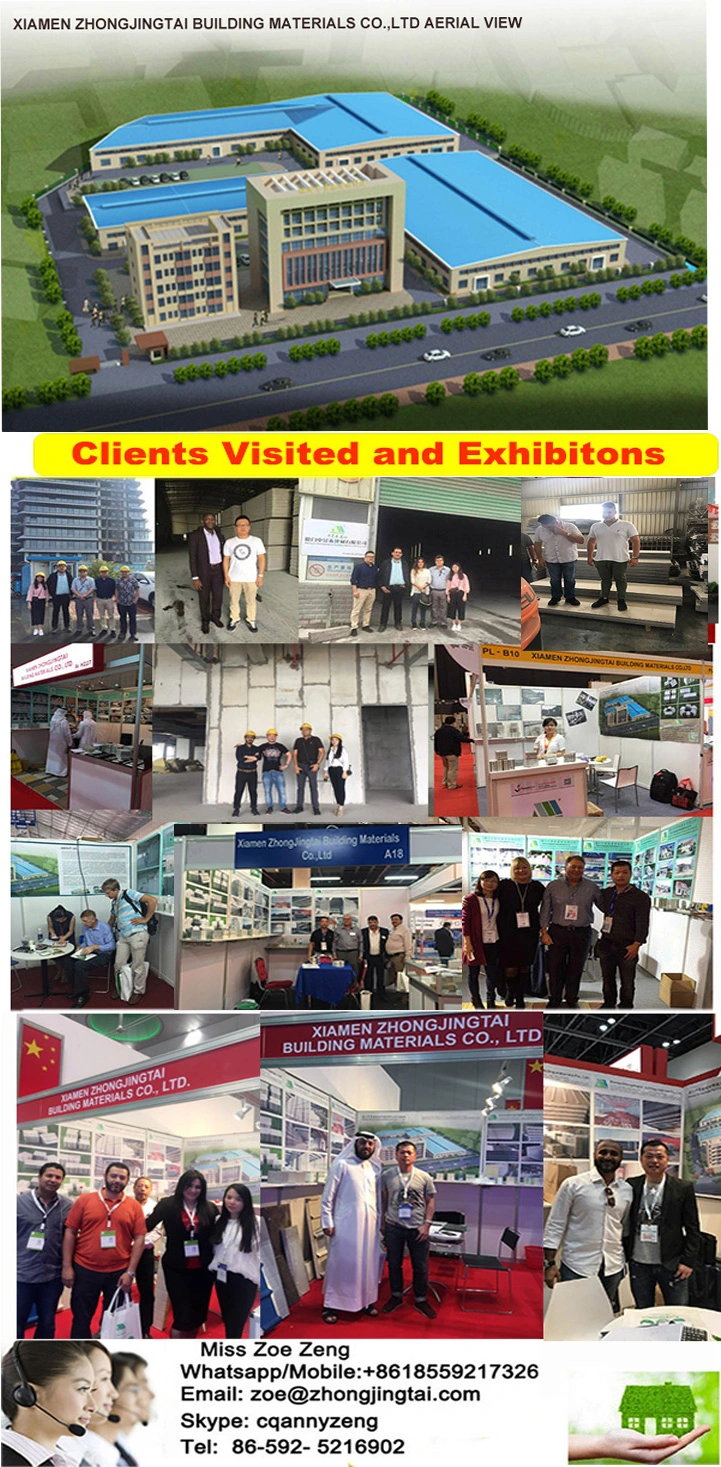 concrete prefab house
concrete prefab house