China Modern Light Steel Structure Prefabricated House light steel villa prefab light steel villa
1.
Basic technology features:
-- 1. High structural stability
-- 2. Commercial process
-- 3. Fast building
-- 4. Fit for any kinds of groundsill
-- 5. Construction with little influence of climates
-- 6. Personalized housing inside design
-- 7. 92% useable floor area
-- 8. Diverse appearance
-- 9. Comfortable and energy saving
-- 10. High repeating utilization factor of stuff

2. The sample project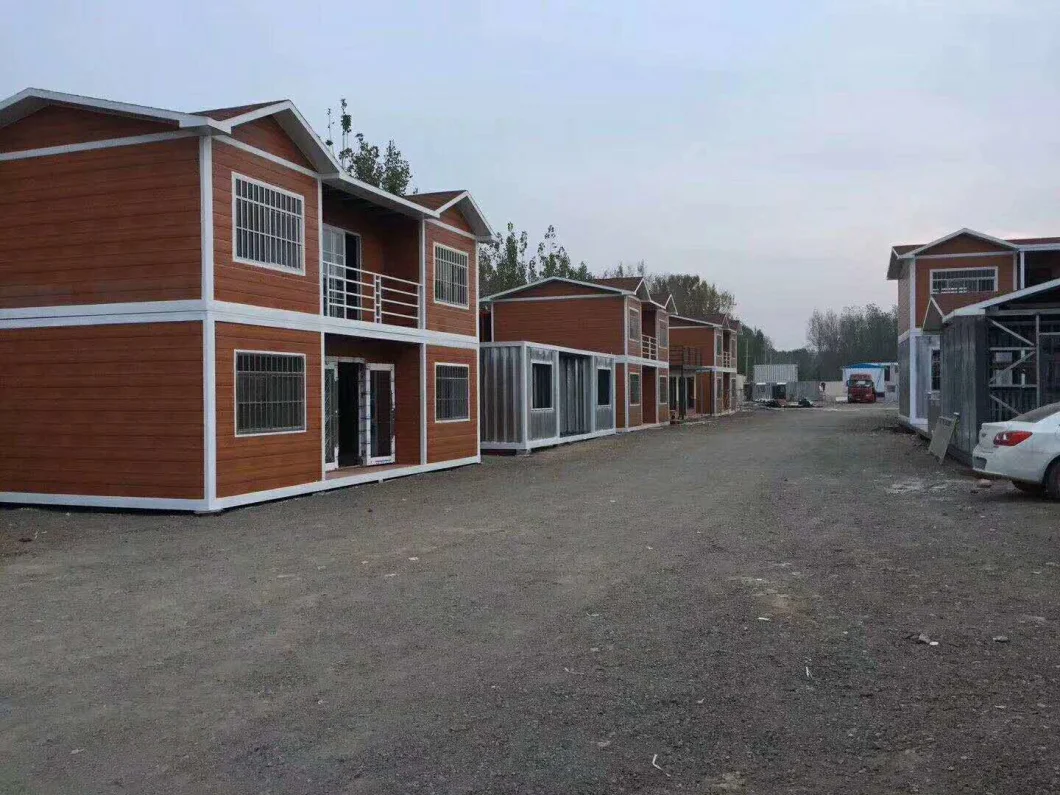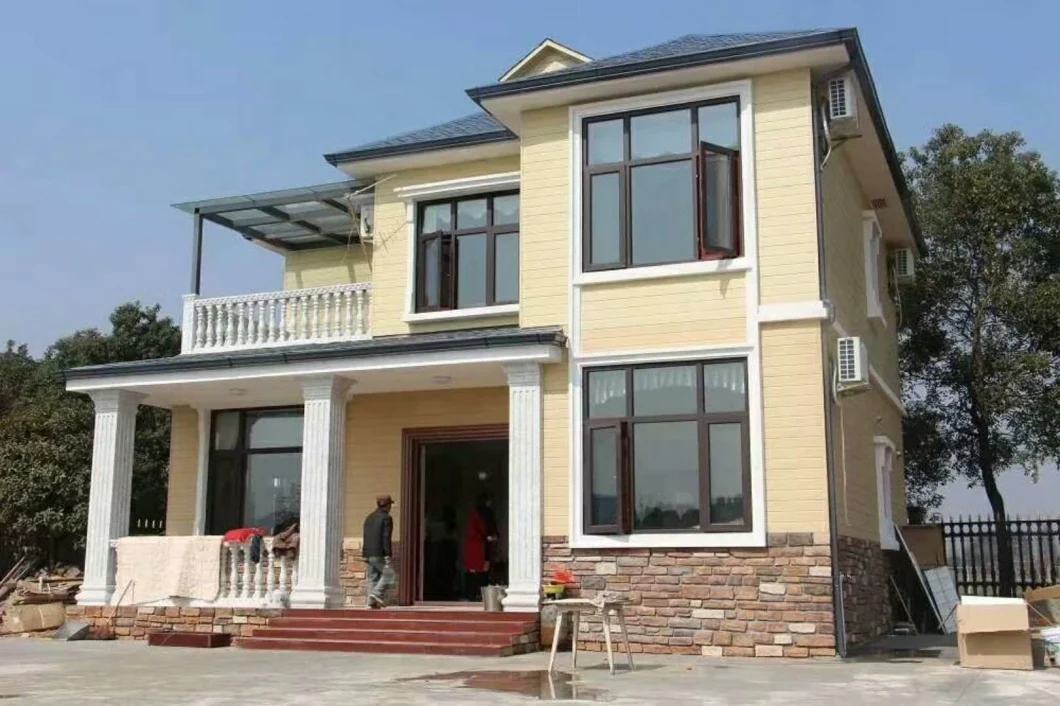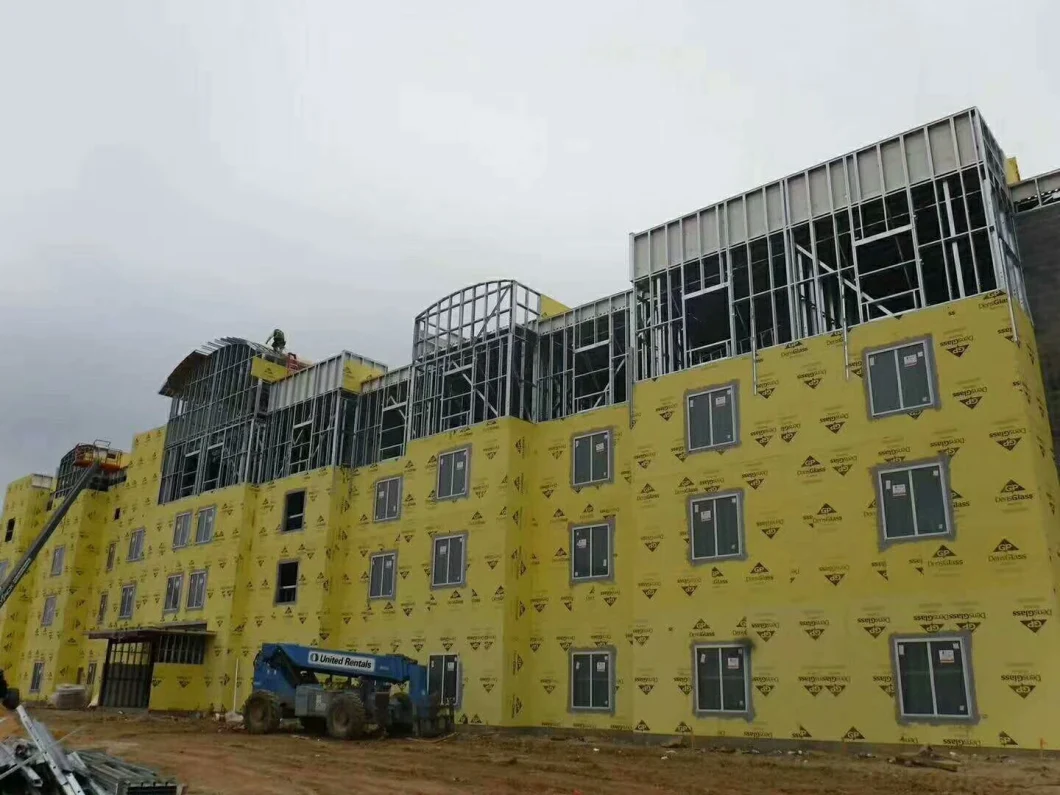 3. Technical Parameters
Item Name


light steel structure prefab house building


Main Material




light gauage steel keel and Q235/Q345 H column




Steel frame Surface

Hot Dip Galvanized

Wall material

1. Decorative board

2. Water proof breathable membrane

3. EXP board

4. 75mm thinckness light steel keel(G550)filled with fibergalass cotton

5. 12mm thinckness OSB board

6. Septum air membrane

7. Gypsum board

8. Interior finished

Window

Pastic window

Door

Safty door and according to the requirement of house

Roof

Roof

1. roof tile

2.OSBboard

3. steel keel purlin fill EO level glass fiber insulation cotton

4. steel wire mesh

5. roof keel

Service




Design, Fabrication and Installation






We can make quotation according to customer's drawing or requirement; (size by length/width/height and wind speed), offering a free design drawing and all detailed drawings for installation.






Design software: Auto CAD,PKPM,MTS,3D3S, Tarch, Tekla Structures(Xsteel)V12.0.etc




Packing




According to customer's requirement




Load into 40/20GP,40HQ or 40OT
4. The advatange of the light steel house
Most of the roofs of the low-rise villas are sloping roofs, so the roof structure basically adopts
a triangular roof truss system made of cold-formed steel elements, and the light steel members
is been formed a very strong "plate-ribbed structure system" after sealing the structural plates
and gypsum boards, , which has a stronger ability to resist seismic and horizontal loads, and is
suitable for areas where the seismic intensity is above 8 degrees.
The steel structure is light in weight, high in strength, good in overall rigidity and strong in
deformation ability. Building weight is only 1/5 of the brick and concrete structure, can resist
70 meters per second hurricane, so that life and property can be effectively protected.
The residential structure of light steel structure is composed of cold-bent thin-wall steel member
system, steel reinforced with super-corrosion-resistant high-strength cold-rolled galvanized sheet,
effectively avoid the influence of steel plate in construction and use process, and increase the service life of light steel member. The structure life can be up to 100 years.
The thermal insulation material used is mainly glass fiber cotton, which has good thermal insulation effect. The thermal insulation board used for the external wall can effectively avoid the phenomenon of "cold bridge" of the wall and achieve better insulation effect. The heat resistance of R15 insulation cotton with 100mm thickness can be equal to 1 m thick brick wall.
The sound insulation effect is an important index to evaluate the residence. The windows installed
in the light steel system are all made of hollow glass. The sound insulation effect is good, and the
sound insulation is more than 40 decibels. The wall is made up of light steel keel and gypsum board of thermal insulation material.
Dry construction to reduce environmental pollution caused by waste, 100% steel structure materials of the building can be recovered, and most of the other match materials can be recovered, in line with the current awareness of environmental protection; all materials are green building materials to meet the requirements of the ecological environment, It is good for health.
The light steel wall adopts the high efficiency energy saving system, has the breathing function, may adjust the indoor air dryness and humidity, the roof has the ventilation function, may form the flowing air room above the house interior, guarantees the roof interior ventilation and the heat dissipation demand.
All are dry work construction, not affected by the environmental and season. A 300-square-meter building only need 5 workers and 30 working days to complete the whole process from foundation to decoration.
* Environmental protection
The material can be recycled 100%, so that it can be green and pollution-free.
5.The erect processing in site: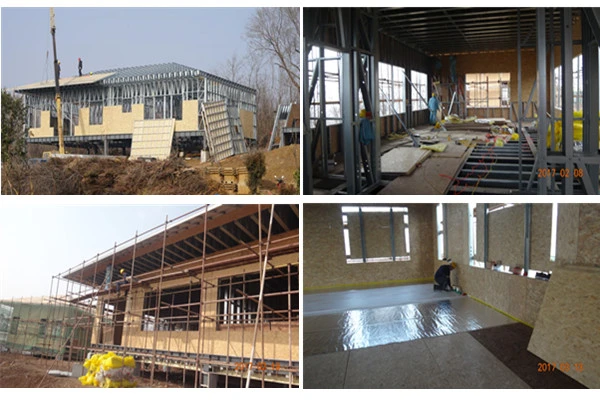 5. Company profile
Weifang Tailai steel structure Co.Ltd
.
one of the market leader for steel structure building business in China. .
----Weifang tailai

is a professional steel structure enterprise, including design, manufacture, and installation. we have
more than 15year's experience
----Weifang tailai
have employees over 180, 10 A level designer ,8 B grade designer and 20 engineer .the annual output
of 100,000 tons, annual construction output 500,000 square meters.
----Weifang tailai
has the most advanced production lines for components of steel structure building. Such as: color steel
corrugated sheet, H-section beam, C and Z-beam, roof and wall tiles,light steel keel ,decorative wall panel ect.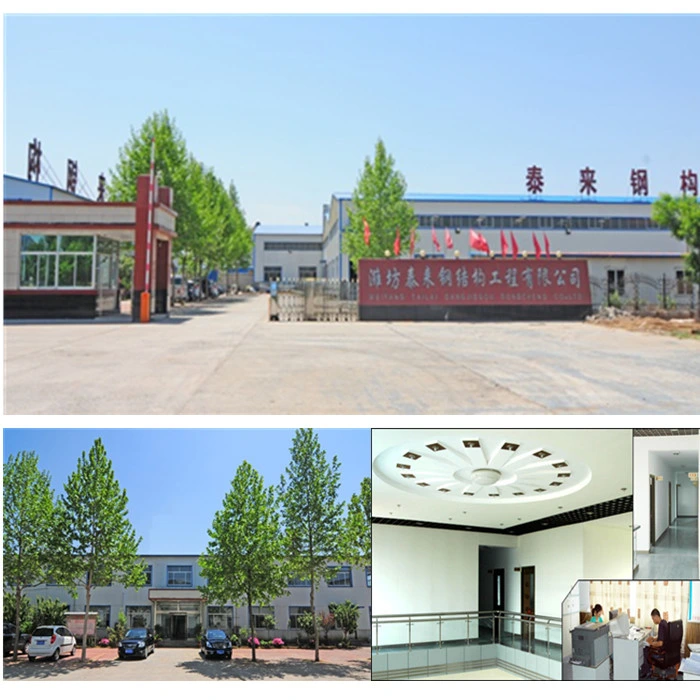 6. packing and loading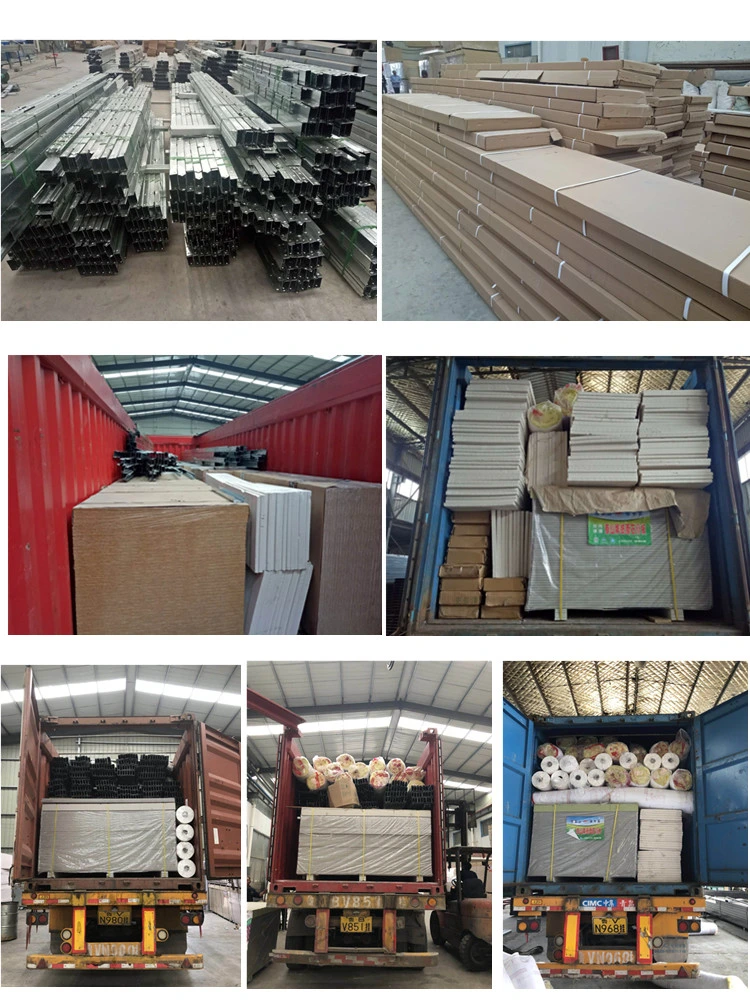 7. RAQ
--Q1: What will client provide before we provide best quotaition ?
A:
When we receive inquiry from client, client please fills purchasing intention sheet as following :
| | | |
| --- | --- | --- |
| No. | information | description |
| 1 | Project Location | |
| 2 | The total area (sqm) | |
| 3 | Width *length*hight (m) | |
| 4. | How many floor | |
| 5 | Wind load (speed) | |
| 6 | Rain or snow load | |
| 7 | Earthquake level | |
| 8 | Project use propose | |
| 9 | Exterior description | |
| 10 | Interior description | |
| 14 | the others requirement | |
----Q2: What are main materials of steel structure house?
A:
Our prefabricated house materials mainly include light steel structure,decorative board, roof tile, door, window, envenlope, screws and other accessories.
----Q3: What drawing of house will factory supply?
A:
Plan drawing, elevation drawing, sectional drawing, foundation drawing, installation drawing.
10. contact information
| | |
| --- | --- |
| Company: | Weifang Tailai Steel Structure Engineering Co.,Ltd. |
| contact: | Debbie guo |
| Moblile: | +8618263608707 |
| Address: | No.3430 Huangshan Rd.Linqu County, Shandong Province, P.R.China |