Lightweight 4 hours Fire Rated Lightweight Concrete Cement Sandwich Panel for Interior Exterior walls
The Composition of ZJT EPS Sandwich Cement Panel
1) ZJT Sandwich Panel Type
-- With EPS grain
-- With Ceramsite

ZJT Sandwich Panel Composition
Face: Calcium Silicate Board
Core: Cement+EPS Polystyrene Foam+Sand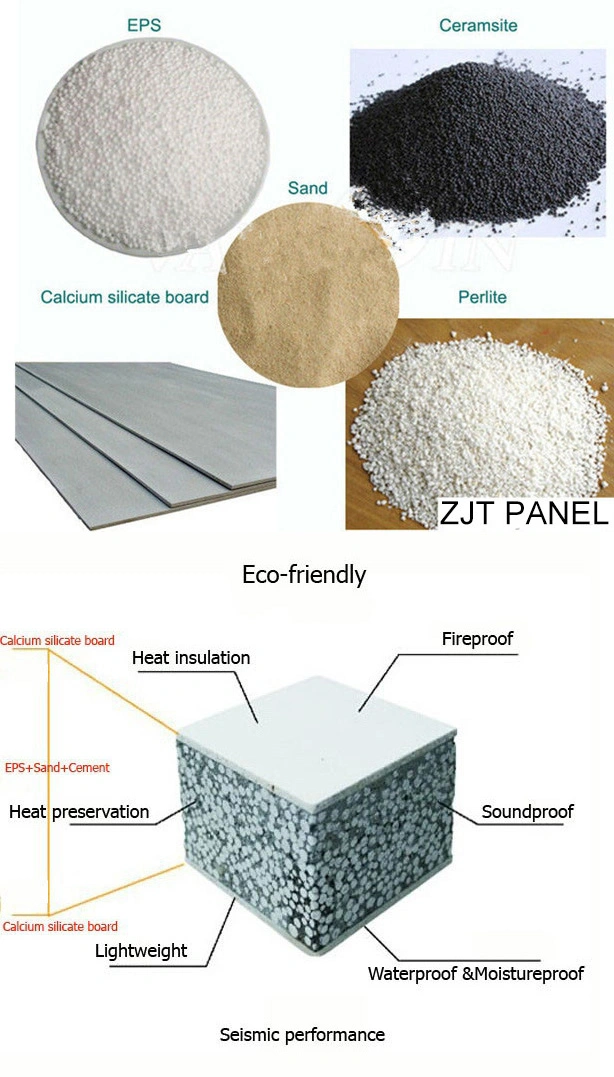 3) ZJT Sandwich Panel Specifications
Length: 2270/2440mm
Thickness: 60/75/90/100/120/150mm
Width: 610mm
4) ZJT Sandwich Panel Properties
Item

Parameter Index Specifications

60mm

75mm

90mm

100mm

120mm

150mm

1

Anti-impact capacity/times

≥5

≥5

≥5

≥5

≥5

≥5

2

Anti-bending damage load/times over deadweight

≥3.0

≥3.0

≥3.0

≥3.0

≥5.0

≥5.0

3

Compressive strength/Mpa

≥3.5

≥3.5

≥3.5

≥3.5

≥3.5

≥3.5

4

Softening coefficient

≥0.8

≥0.8

≥0.8

≥0.8

≥0.8

≥0.8

5

Surface density(kg/m²)

≤70

≤70

≤90

≤90

≤110

≤110

6

Moisture rate(%)

≤10

≤10

≤10

≤10

≤8

≤8

7

Dring shrinkage value(mm/m)

≤0.5

≤0.5

≤0.5

≤0.5

≤0.5

≤0.5

8

Hang force(N)

≥1000

≥1000

≥1000

≥1000

≥1000

≥1000

9

Sound insulation capacity in the air(dB)

≥35

≥35

≥40

≥40

≥45

≥50

10

Fire endurance(h)

≥1.5

≥1.5

≥2.5

≥2.5

≥3.0

≥4.5

11

Heat transfer coefficient(w/m².k)

≤2.0

≤2.0

≤2.0

≤2.0

≤2.0

≤2.0

12

Inner radiation index

≤1

≤1

≤1

≤1

≤1

≤1

13

Outer radiation index

≤1

≤1

≤1

≤1

≤1

≤1

14

Frost resistance(shall show no visible cracks and surface without change)

_

_

shall show no visible cracks and surface without change

15

The combustion properties(A1 or A2)

_

_

A1 or A2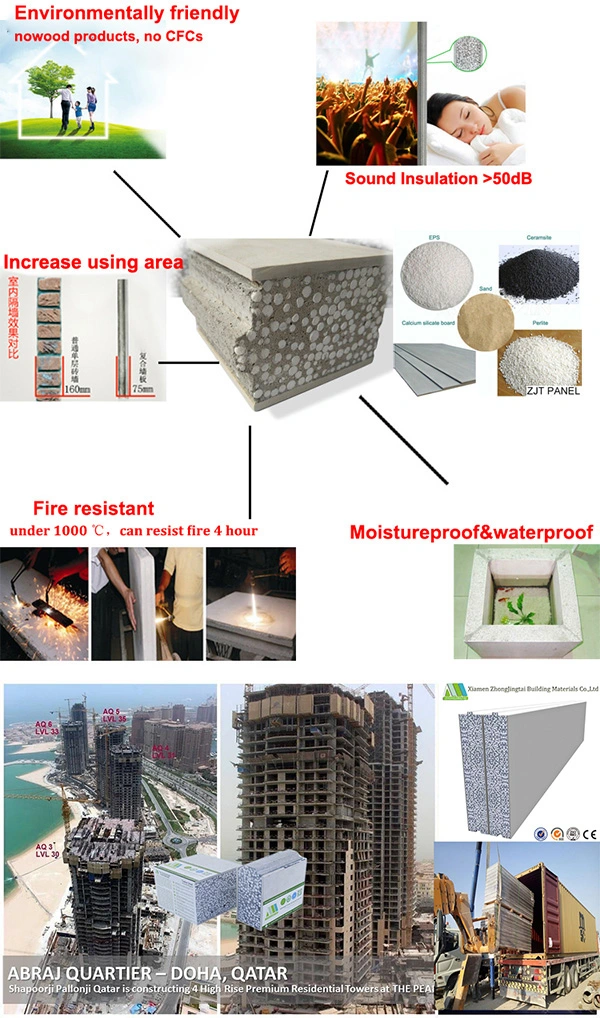 3) ZJT EPS sandwich cement panel has wide applications in different areas and places.
Applications

Floor Application

ZJT light weight compound sandwich panel can be innovatively used as floor board. This system has the outstanding advantages such as hight load-bearing capacity, anti-static electricity, friction resistance, high strength, convenient for wire groove and water pipe inbuilt, corrosion resistance, no deformation, no split, etc., which is much suitable for the fields including the floor plate of additional top floor, factory, workshop, warehouse, etc.




Villa&Exterior Wall Application

Light weight compound sandwich panel can automatically adjust indoor air and water content with the season and climate changes, and such ecology effect just goes with the tide of modern residential building.




Interior Partition Application

Light weight compound sandwich board have been widely applying to the special positions like partition panel of high-rise and mega-high-rise buildings.




Roof Application

Light weight compound sandwich panel roof system brings brand-new added value and application idea to the traditional roof construction. Its easy construction time brings out its hight integrated performance.




Pipe/Fire Well/Equipment Partition Application

ZJT light weight energy-saving sandwich wall panel has features of lightweight, easy cutting, dry used, and easy installation. It is the most suitable wall panel for pipe well, air sharft, fire well, equipment partition and room partition wall.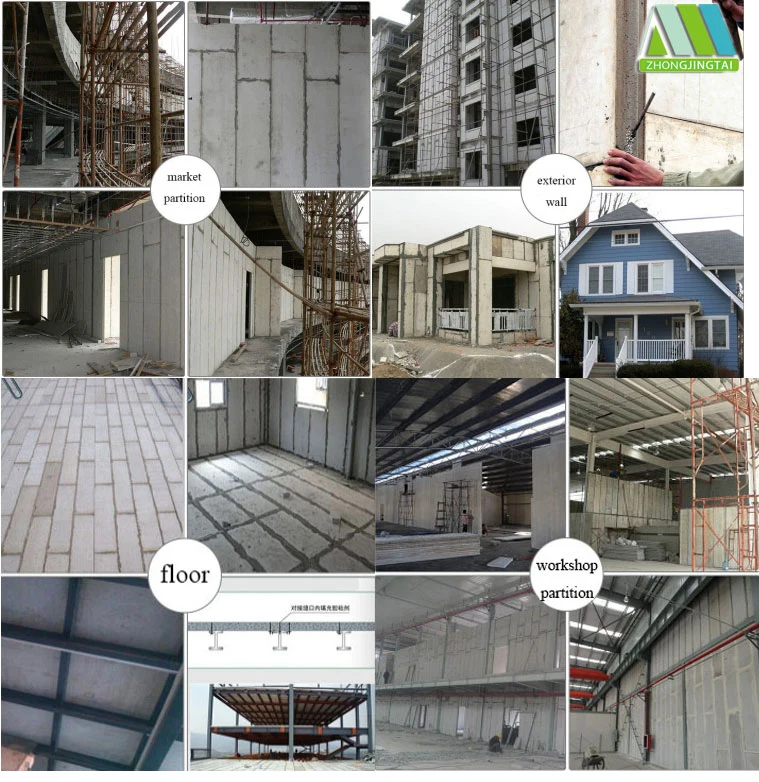 EPS Sandwich Wall Panel For Roof , Internal Wall , External Wall & Floor
(1) Can replace construction materials such as red brick, concrete block, wire spatial grid structure
perlite board, perlite porous board and etc.

(2) For interior and exterior wall on steel or concrete structure building

(3)It can widely be applied to wall materials of various high and low buildings such as hotel,
apartment, tower, mall, bank, office building, hospital,school, villa, old house
reconstruction, residence and workshop, etc.
ZJT Sandwich Panel Packing


1) Free packing, normal pallet + packing belt
2) Standard exporting packing, good pallet+pearl wool+corner protective paper+packing belt+plastic thin film
3) Loading: Normally 18 pallets per 20' container or according to clients' requirements




1. Our Company
Xiamen ZhongJingtai Building Materials Co., Ltd, a professional high-tech research and development company specializes in producing new energy-saving wall materials, machinery and equipment development, technology production and promotion of product applications. Our company is situated in the charming city---Xiamen, with convenience of water and land transportation and only ten minutes from the airport. We persue to the environmental and energy-saving modern wall materials and also positively respond to the national policy on wall reforming. We have developed successfully wall panels that meet the energy saving needs of modern architecture. In addition, We can produce more than 2 million square meters of various wall materials annually. Quality fisrt, honesty and win-win cooperation are our management ideas.


2. Why Should You Choose Our Company?
1) Our company possesses the high-quality management team and is equipped with standardized quality management system and operation procedure.The strictly manufacturing process provides the client good quality product, which can be widely applied on wall partition, roofing and floor, etc.

2) Compared with the traditional panel, the materials ZJT EPS sandwich cement panel used make it solid, lightweight, thin, impact reisistance, heat insulation, sound insulation, fireproof, waterproof, easy cutting, rot resistance, and have better stength and strong hanging strength. If applied it on your buildings, it will improve your work effeciency, promote your work environment, save the work time, save the living space and also will be convenient to the late work maintenance.

4) Our company relying on the advanced equipment, first-class technology, excellent quality, strong productivity, favorable customer service system, has set up the good brand image in the market and been widely recognized by many other countries.
8 Contact Us
Dear friend, if you are interested in our product and have any problems, feel free to contact us and we will try our best to solve your questions and problems as soon as possible.

Contact
Contact Person:
Z
oe
Z
eng
Mobile Phone: +8618559217326
Tex: +86-592-5216902 Fax: +86-592-5216317
Website: http://zjteps.en.made-in-china.com
Company Address: Xiamen ZhongJingTai Building Materials CO., Ltd.
Unit 2A, Lianchang Building, No 6-8Huli District,Xiamen, China.